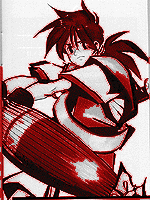 The Story of Shizumaru Hisame
Get out yer hankies... ;)
---
(This story is based on information from various Samurai Shodown FAQs, as well as info from a Shizumaru FAQ. And that's not even mentioning the character elements in here that could only be from the Multiverse Video Fighters Council. And, of course, some information is warped simply to be funny, and that's completely my fault. As usual. ;p On with the story!)
Well, it all started one day when Zankuro Minazuki (Samurai Shodown III's boss, who looked like this) was on a rampage, destroying towns all over the place.
While destroying this one town off somewhere (a town that seemed awfully familiar to him...), he came across this woman running away with a child in her arms. Zankuro, always a sucker for a moving target, killed her. Poof! Like that. She fell down dead, cradling the infant, who let out one great big "WAAAAAAAAAAAAAAAAAAAAAAAAAAAAAAAAAAAAAAAAAAHHHHHH!", and Zankuro, hearing this, stopped in his tracks. He saw the warrior spirit in this child (don't ask me how...), which really set him off, because upon seeing this fighting spirit, he started thinking about all the rampaging he has done, thinking about his life in general and how he had become an excellent martial artist but had become so crazed for the ultimate art that he had become a demon of sorts, and he wrestled with his conscience. After winning, two pinfalls to one submission, he swore he would never kill anyone again, unless they approached him and fought him and lost. Well, it was a start, anyway.
Many years later, a ronin warrior, named Haohmaru, legend of legends who to befit his legendary status talked in a very legendary (read="Loud") voice, who was pretty much the main character of Samurai Shodown/Spirits I and II, and who looked like this, was passing through the (by now rebuilt) town, griping to himself over something, who knows what, probably that he forgot to fill his jug with sake again and had to use spring water, which really doesn't clean your blade AT ALL, not to mention it has no taste to it, and blah blah blah blah blah blah blah blah all the time to himself. While muttering to himself in a very loud voice, which meant that of course everyone within fifty feet could hear him, he came across a group of boys hassling a younger boy, calling him a 'demon child' and the like.
"HO!" He addressed the boys. "WHAT ARE YOU DOING, CIRCLING AROUND THAT OBVIOUSLY SMALLER BOY AND TEASING HIM LIKE THAT?"
One of the kiddies turned to Haohmaru and said "He's got demon blood in him! My grandma said so!"
And another kid chipped in with "So we're teaching him a lesson before he goes on a rampage!"
Haohmaru walks in front of the small boy and says, in the legendary voice of his, "HA! YOUR STORY OF THIS BOY BEING A DEMON IS TRULY SILLY, NOT TO MENTION UNLEGENDARY! NOW YOU WILL LEAVE THIS CHILD ALONE, OR I, THAT IS ME, THE LEGENDARY HAOHMARU, WILL OPEN THIS JUG OF WATER AND DUMP IT ON YOUR HEADS!"
The children scattered immediately. After all, they had all taken baths a couple of weeks ago, so they were all clean and felt they didn't need any more bathing. Yeah. That's the ticket.
The small child, who as everyone knows by now is our favorite redheaded male videogame character (yeah, yeah, I know, "you like Iori better". Shut UP! You know who I mean, right???), Shizumaru, tugged on Haoh's sleeve and asked him if he was a demon. Haoh pondered the question for, maybe, a couple seconds, then answered "HO! I SUPPOSE, SMALL ONE, THAT I AM A DEMON... ALBEIT A LEGENDARY ONE! I BECOME A DEMON OF SORTS TO DEFEAT MY ENEMIES AND, AS SUCH, GROW STRONGER."
"A good demon?" Shizumaru asked, ever-curious.
"WELL," the reply came, "SOME WOULD SAY THAT A DEMON IS A DEMON, GOOD OR BAD, OR EVEN LEGENDARY!"
"Oh."
"SO, LITTLE ONE, THEY SAY YOU ARE A DEMON-CHILD?"
"Yes... my mother was killed by a demon." Shizu looked glum. And by the way, just to clear this up, becoming a demon-child for having your parent(s) killed by a demon is supposedly Japanese Legend, much like what being attacked by a werewolf is like for Americans. And Canadians. And Australians.And English. *Ahem* But, back to the story. "They told me," Shizu continued as though he hadn't been interrupted, because of course he hadn't, "that the demon's name was... Zankuro..."
"HO! ZANKURO!" Haohmaru looks angry. "NOW, THE NEED TO FIND HIM BECOMES EVEN GREATER, FOR I MUST FIND HIM AND MAKE HIM PAY FOR THIS DECISIVELY UNLEGENDARY ACT! DON'T WORRY, LITTLE ONE! I SHALL MAKE HIM REGRET HIS DECISION!" And with that, he began to walk off, but was interrupted by a puff of smoke, which announced the arrival of Hanzo Hattori, the World's Most Depressing Ninja three years running, who looked EXACTLY like this.
"Still the demon-chaser, Haohmaru?" Hanzo asked.
"YOU SHUT UP!" Haohmaru replied, with that dazzling blend of charm and happiness that makes him so loveable. "THIS IS A SITUATION THAT CALLS FOR MY LEGENDARY JUSTICE TO BE DISHED OUT! YOU WILL NOT PREVENT ME FROM AVENGING THIS CHILD'S MOTHER!"
"Why bother? It will make him stronger. The world is nothing but sorrow and pain... it is indeed a merciless world..."
"RRRGGGHHHHH!" Haohmaru did not like depressing people. "PREPARE YOURSELF, YOU VERY UNLEGENDARY NINJA PERSON! HO!" And with that, the two attacked each other, right there in the street. Shizumaru watched this intently, which means he also witnessed Haohmaru beating the depressing crap out of Hanzo.
"Wow!" Shizumaru ran over to Haohmaru, who was smirking down at the unconsious Hanzo lying on the ground. "Sir, that was amazing! Teach me! Teach me, please!"
Haohmaru looked down at Shizu, grinned, and said "HO! SO, YOU WISH TO LEARN THE SKILLS OF ME, THAT IS I, THE LEGEND OF LEGENDARY LEGENDS, HAOHMARU?"
Shizu nodded.
"ARE YOU SURE YOU WANT TO LEARN MY TECHNIQUES?" Haoh asked.
"YES!" Shizu yelled exitedly.
Haohmaru paused. "BUT....... REALLY REALLY?"
"*YES!*" Shizu yelled at the top of his lungs.
Haohmaru smiled. "JUST CHECKING."
Shizumaru fell over.
And so it was that Shizumaru trained under Haohmaru for a few years. Shizu mastered Haoh's Kogetsuzan(Crescent Moon Slash) fairly easily, but had trouble with his other attacks. Though he did learn to mimic his Senpuuretsuzan(Cyclone Slash) with his umbrella. Eventually, Haohmaru told Shizu that he had taught him all he could, and the two of them went their seperate ways.
Shizumaru, now in his mid-teens, came across a man wandering along a path, and something clicked in his mind that this guy HAD to be a demon. Shizu didn't LIKE demons. "YOU!" Shizu yelled.
Genjuro turned around, hearing this, and saw Shizumaru running towards him. "Hmmm?"
Shizumaru stopped a few feet away from him. "Demon," he said, "I want to know something. Where do demons come from? And where do they go? I've always wanted to know."
"You say I'm a demon, hmmm?" Genjuro drew his sword. "Most interesting. I suppose I'll show you where they go..."
The match was even shorter then Genjuro vs. Tetris. Shizumaru bowed to the unconsious Genjuro on the ground, then said "Gomen nasai." which meant, basically, "Sorry".
Shizumaru turned away and walked off. Which is good, because that's all I know of the story, so...
---